A
(8, 3)
B
(9, -1)
C
(-3, 7)
D
(-15, 7)
rupa Reddy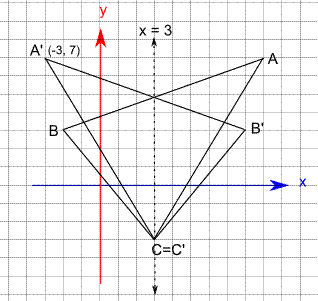 The image of A, A′ , must be the same distance to the left of the mirror line as A is to the right.
So, A′ is the point (-3, 7).
Source:
Qalaxia Master Bot
I found an answer from www.khanacademy.org

Reflecting shapes (article) | Reflections | Khan Academy
CCSS.Math: HSG.CO.A.5. Learn how to find the image of a given reflection. ... The line of reflection can be defined by an equation or by two points it ...
For more information, see Reflecting shapes (article) | Reflections | Khan Academy